Recent Afterschool Snacks
MAY
14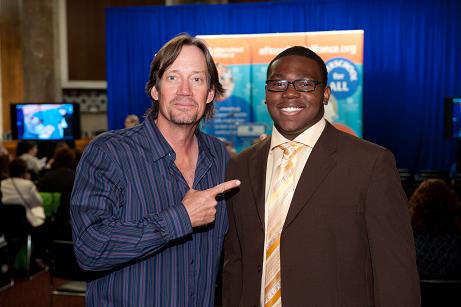 "Breakfast of Champions" Emcee Kevin Sorbo with youth afterschool advocate and chess player Pobo Efekoro.
It's hard to pick just one highlight from this year's Afterschool for All Challenge "Breakfast of Champions." We heard from a chess champ, a scholarship winner, an aspiring pastry chef, two dinosaur hunters and five Members of Congress. To top it off, the event was emceed by Kevin Sorbo, of the hit TV show Hercules and recent films "Soul Surfer" and "What If." The excitement and energy among our 350+ guests was unmistakable, as afterschool advocates flowed out of the event and into their meetings with Members, all 200+ of them, pumped up to share news of the afterschool programs keeping kids safe, inspiring learning and helping working families back in their home states.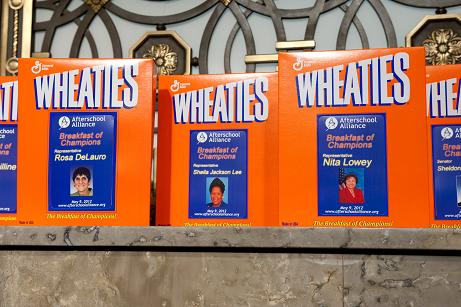 Members of Congress at the event were honored with a "Breakfast of Champions" Wheaties box. Sens. Barbara Boxer (CA) and Sheldon Whitehouse (RI) and Reps. David Cicilline (RI), Rosa DeLauro (CT) and Dale Kildee (MI) all made a strong call for growing afterschool resources. Rep. Kildee was also awarded the C.S. Mott Foundation's William S. White Achievement Award, in recognition of his decades of work in support of afterschool programs.
"Pobo" Efekoro, a New York high school student and chess champ, shared his views on the importance of afterschool programs. Pobo is featured in Brooklyn Castle, a new documentary film about the most winning middle school chess team in the country. The afterschool program is now threatened by public school budget cuts. Pobo was part of the chess team at I.S. 318 for three years and now coaches the team. The repeated budget cuts suffered by his program led Pobo to become an advocate, and a student government leader, at a young age.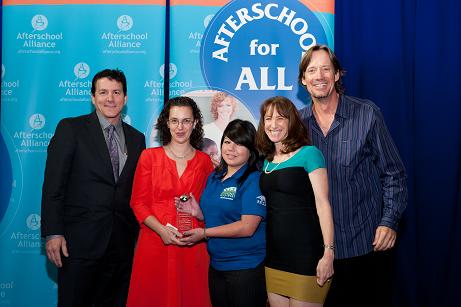 The co-founders of Project Exploration, paleontologist Paul Sereno and educator Gabrielle Lyon, were honored as the 2012 National Afterschool Champions. Project Exploration is a highly successful program in Chicago that provides girls and students of color with opportunities to work with scientists who act as teachers, mentor, and role models. A longitudinal study of Project Exploration found that 95 percent of the students who participated in Project Exploration had graduated or were on track to graduate high school; three in five students who enrolled in four-year colleges were pursuing degrees in STEM or STEM-related fields; and three in five students who graduated college graduated with a degree in a STEM-related field.

The Afterschool Alliance honored 8 Afterschool State Champions for their tireless and extraordinary support for the afterschool programs that keep kids safe, inspire them to learn and help working families.
The 2012 Afterschool State Champions:
California: Jennifer Peck, Executive Director, Partnership for Children and Youth
Florida: Claudia Davant, Managing Partner, Adams St. Advocates
Kansas: Dr. Elaine Johannes, Associate Professor, Kansas State University
Nevada: Olivia Diaz, Assemblywoman, Nevada State Legislature
New York: Lena Townsend, Executive Director, Robert Bowne Foundation and Anne Lawrence, Program Officer, Robert Bowne Foundation
Ohio: Dr. Monica J. Mitchell, Associate Professor of Pediatrics and Co-Director of INNOVATIONS, Cincinnati Children's Hospital & Medical Center
Pennsylvania: Dr. Kathryn Hynes, Assistant Professor, Penn State University
Thanks to all who helped us celebrate afterschool leaders, and remind Members of Congress that afterschool is key to kids' success!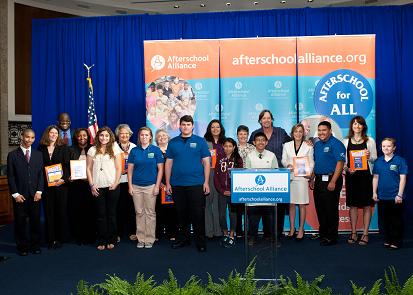 Congratulations to our 2012 State Afterschool Champions.