Recent Afterschool Snacks
SEP
2
2016
By Robert Abare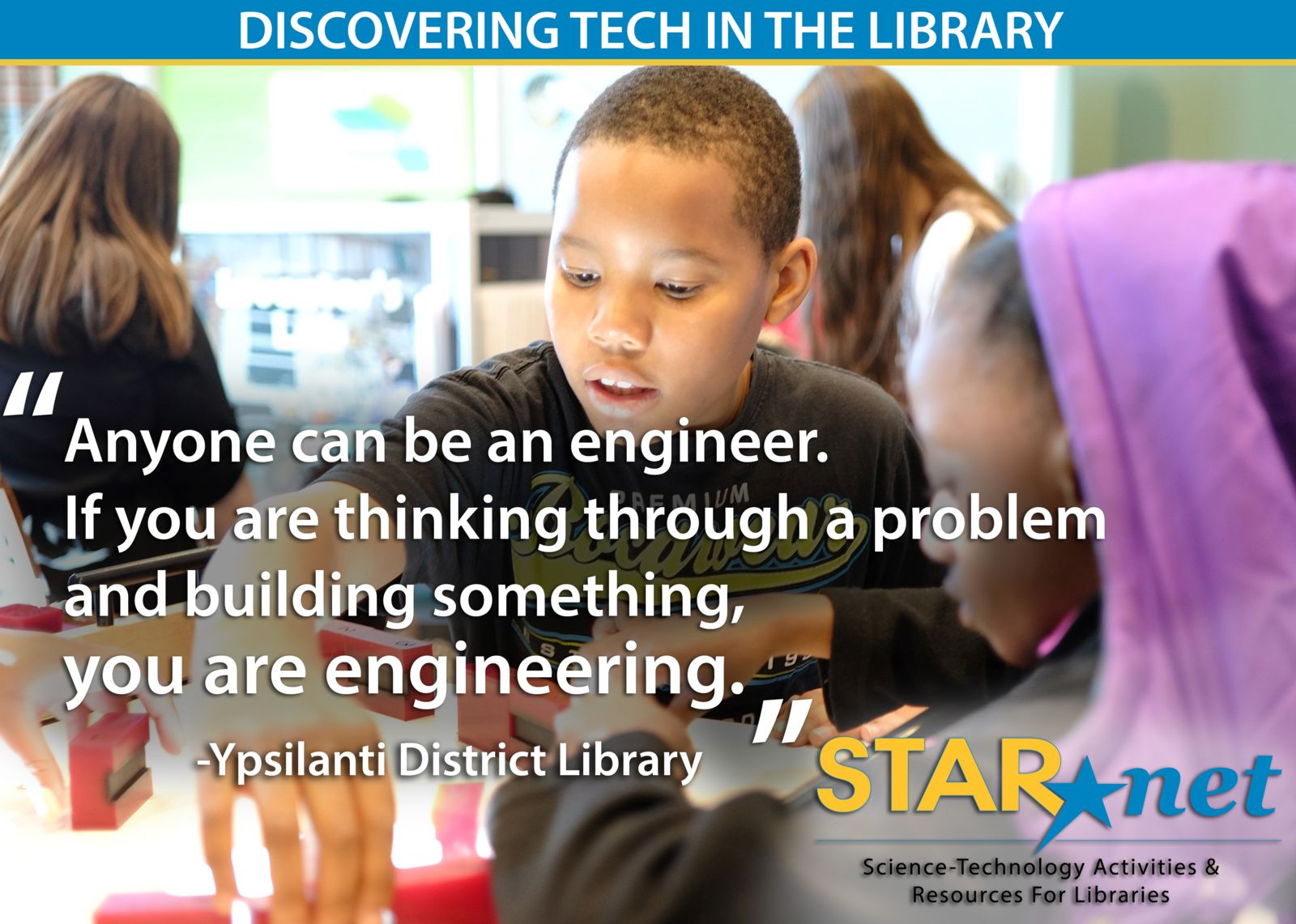 A social media graphic designed by the Afterschool Alliance to promote afterschool-library partnerships.
The Afterschool Alliance has partnered with the Science Technology Activities and Resources Library Education Network (STAR_Net) to highlight the ways afterschool programs are partnering with local libraries to introduce kids to valuable science, technology, engineering and math (STEM) learning experiences. A project of the Space Science Institute's National Center for Interactive Learning, STAR_Net unites an array of partner organizations to provide interactive STEM exhibits, programming and training to public libraries nationwide.
Often regarded as quiet places for kids to read or study, local libraries are revealing their potential to get kids learning in dynamic ways—from hands-on learning exhibits to conducting science experiments. STAR_Net is helping libraries engage their communities with many of the following resources, made possible through a grant from the National Science Foundation:
Large, hands-on exhibits that are currently traveling to various public libraries across the USA. The exhibits—Discover Space, Discover Earth and Discover Tech—introduce kids to various scientific arenas.
Online and in-person training for library staff, which introduces them to the STEM content of the exhibits, and guides them in developing complementary programming.
A public awareness campaign, led by the Afterschool Alliance, to promote STAR_Net exhibits or resources among the afterschool field and highlight afterschool-library partnerships on social media with a series of shareable graphics.
How STAR_Net can bring more STEM to your program
STAR_Net also offers a number of resources that afterschool programs can use to develop quality STEM programming and stay up-to-date on trends and activities in the STEM field.
Webinars and webinar recordings cover a range of topics, from an international celebration of the Moon to interactive citizen science projects.
Browse ongoing STAR_Net projects to learn more about their content and see if any exhibits are visiting a library near your program.
Online games can make STEM learning fun, like Starchitect, which has kids design their own solar systems.
How STAR_Net turned a library into a pop-up science museum
The Ypsilanti District Library in Ypsilanti Township, Michigan is just one of many local libraries that has used resources from STAR_Net to engage afterschool youth. The library has hosted a variety of exhibits since it opened, but STAR_Net's Discover Tech exhibit was the library's first to incorporate dynamic, hands-on experiences that teach kids about STEM and its various applications.
"Historically, exhibits haven't been hands-on in this way—which was new and exciting for the community!" said Kristel Sexton, Youth Services Librarian at the library. "For partners and organizations in the community, it helped them see libraries can do STEM. We can be experts in STEM, and we can support you in this."
Afterschool-library partnerships are not only proving that libraries can be experts in STEM learning, they are creating mutually beneficial relationships to ensure kids are in safe, nuturing environments after school, and that kids are aware of all the resources available to them in their community.