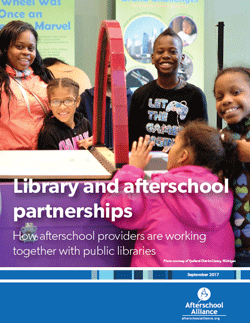 The results are in: afterschool programs love partnering with their local libraries! In a 2017 survey of more than 350 afterschool programs, almost three-quarters are working with their local public library in diverse ways, ranging from summer reading initiatives to curriculum development support, book lending programs, family events, and even science, technology, engineering and math (STEM) activities! So, what's stopping you?
And read our full report, "Library and afterschool partnerships: How afterschool providers are working together with public libraries" here.
For Lights On event ideas, take a look at our events ideas page or check out some of the resources from our partners below!
If you're a library looking to partner, here's what programs said would help bridge the gap!