Recent Afterschool Snacks
DEC
7
2017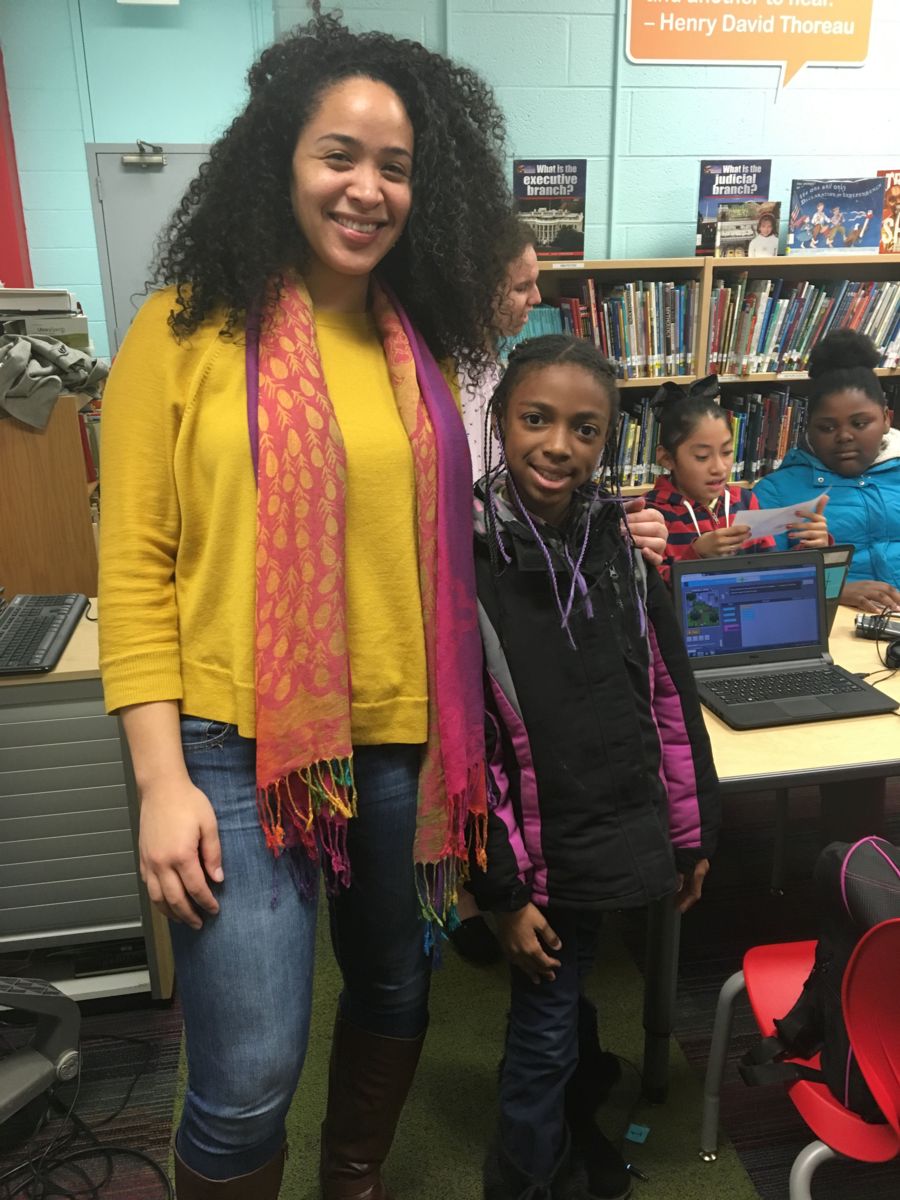 Keshia Ashe and a student at Tubman Elementary
During CS Ed Week, we wanted to highlight an initiative that pushes the envelope on excellence in computer science and STEM. Keshia Ashe, the co-founder and chief executiver officer of ManyMentors, sat down to talk about afterschool, STEM mentoring, and fostering the growth of underrepresented communities in the STEM field.
In 2011, Keshia Ashe didn't know she was starting a business. She just knew she saw a problem.
A graduate student at the time, Ashe was mentoring a group of tenth graders, many of whom were interested in pursuing medical school once they graduated. She reached out to friends in the field but kept hearing a familiar story.
"A lot of my friends said, 'I can't come, I'm busy, I don't have the time to drive an hour to interface with the students,'" Ashe recalls. "At the time, Skype was really starting to gain some traction and not have so many technical difficulties, so my friends would Skype into the classroom to talk to the students. That's really the nucleation site of ManyMentors. It was me trying to solve a problem with the students I was working directly with."
ManyMentors is an organization that connects younger people to older people in the science, technology, engineering, and math (STEM) fields, using a hybrid strategy that combines face-to-face monthly mentoring meetings coordinated by onsite chapters with a mobile app that promotes sustained communication between mentors and mentees. In addition to more than 400 onsite mentors at six universities in Connecticut, New Hampshire, and New York, ManyMentors is opening a cohort of chapters in the D.C. region, with students from University of Maryland, Howard University, George Washington, George Mason University, and more.
NOV
28
2017
Afterschool programs across the country are working with students to prepare them for future jobs. Of programs focusing on high school students, we see students getting real-world job experiences in afterschool, including paid internships, professional development training, practice building skills they will need in the workforce, and exposure to colleges and possible future career pathways. One of the programs highlighted in our latest issue brief, Building Workforce Skills in Afterschool, Evoking Learning and Understanding Through Investigations in the Natural Sciences (EVOLUTIONS) does all of this and more with their students. While talking with the program's manager of public and youth engagement, Andrea Motto, we were impressed not only with what EVOLUTIONS does with its students, but how.
EVOLUTIONS is located in New Haven, Conn., and is a part of Yale University's Peabody Museum of Natural History. The program was created in 2005 in response to community focus groups identifying that the museum could do a better job engaging with the local community. As part of these focus groups, the community expressed that they did not view the museum as a resource that was accessible to them. Listening to these community concerns, EVOLUTIONS was born. By starting with youth, the museum could invest in bridging the gap, bringing youth into the museum in an attempt to increase community access.
NOV
27
2017
Last month, we saw afterschool programs across the country open their doors to host Lights On Afterschool events, providing a firsthand look at the broad array of fun, enriching, and engaging activities students take part in at the program and the vital role programs play in their community. A newly-released research report from RAND is a fantastic complement to Lights On Afterschool, offering a research-based look at The Value of Out-of-School Time Programs.
The principal takeaway from the report, which made possible in part by The Wallace Foundation, is that there are measurable benefits to students and families when participating in afterschool and summer learning programs — but the quality and intentionality of the program, as well as a student's regular participation in the program, influences those benefits.
Also of note in the report is that it calls attention to the nuanced issue of what is and is not measured in afterschool and summer learning programs when evaluating a program's success. The authors find that some of the key benefits of afterschool (such as providing students with new and differing learning experiences, helping close the opportunity gap, and supporting parents) are rarely, if ever, measured.
AUG
22
2017
This year we were happy to announce the Columbus State Community College's ESL Afterschool Communities (ESLAsC) as the winner of the Dollar General Afterschool Literacy Award. As the award winner, ESLAsC was featured in our new issue brief "Afterschool providing key literacy supports to English language learner students," highlighted in a program profile, and received $10,000, which enabled them to provide summer programming to 120 youth this summer. In preparation for our issue brief, we caught up with Florence Plagenz, supervisor of ESLAsC, to hear a bit more about their programs.
Columbus, Ohio, is home to an estimated 45,000 Somalis and an estimated 44,000 Latinos. Responding to the high concentration of immigrant populations in the city, ESLAsC—which serves 100 percent English language learners, most of whom are from low-income families— provides necessary supports for these families. However, becoming such an integral resource took a lot of trust building and self-evaluation.
JUL
27
2017
Since 2015, the Afterschool Alliance has partnered with the Dollar General Literacy Foundation to distribute the Dollar General Afterschool Literacy Award to recognize an outstanding afterschool program that has provided literacy supports to its students. While there can only be one official award recipient, there are always so many programs that we wish we could honor and reward as well—Raider's ARK (Academics Reinforcing Knowledge), located in Arcadia, Wisconsin, is one of these programs.
Arcadia is a small rural community in western Wisconsin with a population of around 3,000. Between 2000 and 2014, Arcadia's Hispanic population rose from 3 percent to 35 percent, and this past year the Hispanic population in the public elementary school rose to 73 percent. As a result, the need for supports for English language learners has substantially grown.
Looking to include the program in our Dollar General afterschool literacy issue brief, we reached out to Nancy Boehm, the program coordinator for Raiders ARK, and had an amazing conversation about what makes Raider's ARK so special, and how they support their students.
When Boehm joined, Raider's ARK had been using a relatively unstructured program that prioritized homework support. That wasn't where the future of program was heading.
"I am someone who likes a lot of organization and structure," Boehm explained, "but that organization and structure should be focused on fun activities, where students know what is expected of them and have a safe and engaging place to be. There should be opportunities for enrichment, and learning, and continued learning, but for it not to look or feel or smell or sound like school, even though we are housed in a school building."