Recent Afterschool Snacks
SEP
20
Yesterday the Afterschool Alliance hosted a briefing on Capitol Hill, in conjunction with the National Writing Project and the Senate Afterschool Caucus, to explore how afterschool/community partnerships support student success. We were joined by a panel of education experts and corporate leaders who discussed how to create and maintain successful partnerships that improve student engagement in learning.
The briefing opened with a great video from Nebraska Loves Public Schools, an initiative to support the state's education system, showcasing Morton Middle School's expanded learning opportunities made possible through strong community partnerships:
The panel:
Jen Rinehart, Vice President of Policy and Research, Afterschool Alliance
Dr. Sharon J. Washington, Executive Director, National Writing Project
Dr. Diane Waff, Director, Philadelphia Writing Project, Pennsylvania
Elizabeth Colby, Afterschool Director, Newfound Area School District, New Hampshire
Patricia Rodgers, high school student and afterschool advocate, Bristol, New Hampshire
Regina Schofield, Director, Corporate Engagement and Education Outreach, Battelle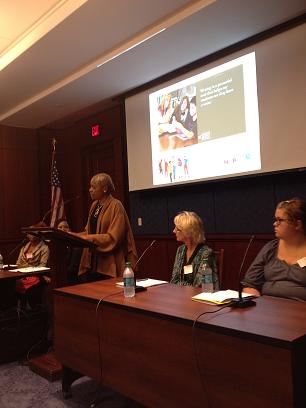 The resounding message from these experts was that preparing youth for success in tomorrow's workforce is important not only to our nation's schools, but also to communities, policy makers and businesses. Afterschool programs do a tremendous amount to help young people develop the skills needed for the 21st century workplace by playing a vital role in connecting schools and communities while preparing youth for success. They do it by helping schools move beyond the constraints of the traditional school day and embracing the surrounding community and capitalizing on the resources, assets, and perspectives of organizations and individuals outside the school.
The National Writing Project and the Newfound Area School District offered great examples of the local partnerships being formed between community organizations like museums and churches, schools, local businesses, and afterschool programs to offer kids expanded learning opportunities that complement and enrich their school day lessons and allow them to explore their communities.
Regina from Battelle offered her perspective on the importance of building and sustaining strong public/private partnerships as the force to drive education innovation. She recognized that out-of-school time is really what enhances learning by building a passion for education and teaching kids that they have options.
But it was New Hampshire high school student Patricia Rodgers who really brought the subject to life and moved the audience to tears. She shared her own touching story of how involvement in an afterschool program saved her life. She recounted a period in her life in which she was severely depressed and struggling at school, both socially and academically. It wasn't until she found a place in her school's afterschool program that she began to open up and feel better about herself. "When I started going to afterschool I found my stability," Patricia said. "I don't know what I'm going to do when I graduate high school. I really love my afterschool program, I don't want to leave" she joked.