Recent Afterschool Snacks
JAN
30
The first Digital Learning Day is this Wednesday, Feb. 1, and marks an important moment to reflect on the effect of digital technology across all aspects of education. In addition to transforming how students learn during the school day, digital technology has major implications beyond the school day, in afterschool and summer learning programs. These programs play a major role in helping schools to address issues of equitable access, supporting student learning and building digital literacy.
Although Internet-enabled mobile devices have helped to increase the number of youth with Internet access, the digital divide between socioeconomic groups is still very much a real issue. According to a 2010 survey by the Pew Internet & American Life Project, only 45 percent of households earning less than $30,000 per year had broadband access in the home. As technology becomes more integrated into the school day, the effects of this inequity in access may become even more pronounced between students who can extend their learning at home and those who cannot.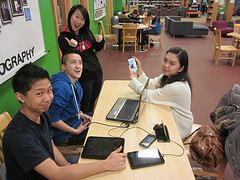 Afterschool and summer programs broaden access to digital technology beyond the school day, particularly for socioeconomically disadvantaged youth. Yet, they provide much more than a few additional hours with a laptop. They can use digital technology to deepen a child's understanding of academic subjects, complementing the school day with an even richer exploration of school lessons, and help students build critical digital literacy skills. In order to be successful in the 21st century, students need much more than a basic understanding of digital technology. Digital literacy emphasizes a student's ability to evaluate, manipulate and actively contribute to the pool of existing digital media and content.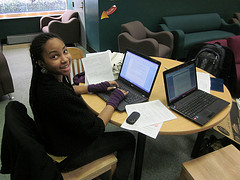 One example of a program meeting both needs is YOUmedia. In a state-of-the-art "hangout," youth can access computers, media creation tools and software in a kid-oriented environment. A collaboration between the Chicago Public Library and the Digital Youth Network, YOUmedia taps the expertise of two incredible community resources to help students build digital media skills and create their own videos, blogs and other digital artifacts.
As schools and out-of-school providers are simultaneously evolving to provide more innovative and personalized learning experiences for youth, the need for strong partnerships are as important as ever. Digital Learning Day has provided a great platform for stimulating discussion and sharing ideas between institutions across the education spectrum. It is important that we sustain this dialogue throughout the year and continue to explore opportunities to strengthen community partnerships that advance digital learning.
All photos are from YOUmedia.